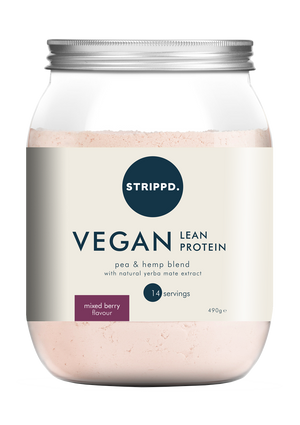 VEGAN Lean Protein Powder - Mixed Berry
Sale price Price £19.99 Regular price Unit price / per
Tax included.
490g (14 servings)
A delicious and smooth blend of pea and hemp protein, ideal source of protein for lactose intolerants and Vegans. Infused with metabolism boosting yerba mate to help tone lean muscles and support an active lifestyle. Suitable for Vegans & Vegetarians, Lactose & Gluten intolerants.
Pea & Hemp protein I Natural yerba mate extract
Low in sugar I 133kcal per serving
GMO free I Lactose free I Gluten free I Soya Free | Natural flavouring I Made in the UK
Ingredients
Pea Protein Isolate, Flavouring System (Sweetener [Xylitol], Maltodextrin, Natural Colouring - Beetroot Powder, Thickener [Xanthan Gum], Gum Arabic, Sweetener [Stevia], Natural Flavouring Substances, Triacetin, Flavouring Preparations), Hemp Protein, Yerba Mate extract (8% Caffeine).
Warning
Contains caffeine from natural sources (16mg per serving from yerba mate extract). Not recommended for children or pregnant women. Excessive consumption may produce laxative effects.
Serving size: 35g
Servings per Container: 14
* Nutrient Reference Value † No NRV established
Per 35g
Per 100g
Energy
555kj 


133kcal

1587kj 


379kcal

Fat
1.1g
3.0g
Of which saturates
0.0g
0.1g
Carbohydrates
9.3g
26.5g
Of which sugars
0.2g
0.4g
Dietary Fibre
1.4g
4.1g
Protein
21.1g
60.3g
Salt
0.7g
2.1g
Per 35g
%NRV*
Yerba Mate extract
200mg
†
Post workout shake
Makes 1 shake
On your table plan:
1 scoop (35g) of STRIPPD Vegan Lean Protein Powder Mixed Berry
200-250ml of cold water or the milk of your choice
1 shaker
Let's get to work:
Add 1 scoop (35g) of Protein powder in shaker
Pour in water or milk
Shake hard & done!
For best results, consume within 30 minutes of exercise
For more recipes please click on the recipes tab (just above) or visit the recipe section