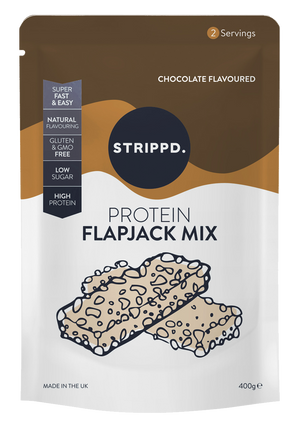 Protein Flapjack Mix - Chocolate
Sale price Price £12.99 Regular price Unit price / per
Tax included.
400g (2 servings of 8-12 flapjacks)
Delicious, simple and nutritious these protein flapjacks will make you fall in love with healthy eating. As well as being high in protein they also offer a long-lasting source of energy. Prepared in under 5 mins and baked in 12 mins or less. Suitable for Vegetarians.
Whey & Milk protein I Oats
High Protein I Low in sugar
GMO free

 I Gluten Free

 I 

Natural flavouring I Made in the UK
Ingredients
Rolled OATS, Protein Blend (Whey Protein Concentrate [from MILK], MILK Protein), Cocoa Powder, Natural Flavouring, Flaxseed, Sweetener (Stevia).
Allergens
See ingredients listed in CAPITALS.
Serving size: 200g (1 serving makes 8-12 flapjacks)
Servings per Container: 2
* Nutrient Reference Value † No NRV established
Per 100g

Per 200g Serving
(8-12 flapjacks)

Energy

1565kj
373kcal

3131kj
746kcal

Fat

7.8g

15.5g

Of which saturates

2.3g

4.6g

Carbohydrates

40.3g

80.6g

Of which sugars

2.1g

4.3g

Dietary fibre

7.0g

13.9g

Protein

34.7g

69.5g

Salt

0.24g

0.49g
1 serving (200g) makes 8-12 tasty flapjacks, perfect for recovery
On your table plan:
4 scoops (200g) of STRIPPD Protein Flapjack Chocolate
Not included in this pack:

50g of coconut oil
4 Tbsp of honey or golden syrup
4 Tbsp of the milk of your choice
Recommended toppings: nuts & raisins
Let's get to work:
Pre-heat oven at 175C/350F
Microwave 50g of coconut oil in a mixing bowl for 30 sec
Add 200g of the Flapjack mix to your bowl and stir well
Gently fold in 4 Tbsp of honey or golden syrup
Finally stir in 4 Tbsp of the milk of your choice
Stir the ingredients together until mixed well
Line a medium depth baking tin or tray with grease proof paper and coconut oil
Add the mix to the baking tin or tray
Add the tray to the middle of the oven and bake for 10-12 min
Now it's time to rest & recover: you've earned it!
For more recipes please click on the recipes tab (just above) or visit the recipe section